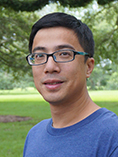 Zizhan Zheng
Associate Professor
307B Stanley Thomas Hall, 6823 St. Charles Avenue
New Orleans, LA 70118
Phone: (504) 247-1468 Fax: (504) 865-5786
Email: zzheng3@tulane.edu
Openings for PhD Students: I am looking for self-motivated students in the areas of (1) AI security and safety and (2) reinforcement learning. If you are interested, please email me your CV, detailed transcripts, and GRE/TOEFL scores (if available). Students with experience in deep learning, reinforcement learning, game theory, or security are preferred.
News
Short Bio
Zizhan Zheng received his PhD in Computer Science and Engineering from The Ohio State University, advised by Prof. Prasun Sinha, and his MS in Computer Science from Peking University, where he was a member of Peking University-Bell Labs Software Technology Joint Laboratory. Prior to joining Tulane, he was a postdoctoral researcher at OSU working with Prof. Ness B. Shroff and then an associate specialist at UC Davis working with Prof. Prasant Mohapatra. Dr. Zheng's Erdös number is 3.
[CV][Google Scholar] [DBLP] [ResearchGate]
Research Interests
AI security and safety
Reinforcement learning
Generative AI
Networks